How to connect Hibob HRIS to Oyster
Overview
This article is a guide to connecting Hibob to Oyster. If you want to connect BambooHR HRIS to Oyster click here.
What is Hibob HRIS?
Hibob Human Resource Information System(HRIS) is an HR Software that collects and organizes all the information you gather throughout the employee life cycle. Through our integration with their software, Oyster can now streamline your end-to-end global employment process.
How it works
This integration is free for all Oyster customers and can be enabled in just a few clicks. With our new integration, you will be able to sync your tech stack and reduce time spent on repetitive and manual tasks as well as eliminate the risk of errors or duplicates while inputting employee information from Hibob into Oyster.
Once you connect Hibob to Oyster, you can import your employee details from Hibob into Oyster and then go ahead to engage them via Oyster. With that done, employee details updated in the Hibob HRIS, will automatically sync periodically back to Oyster.
How to activate the integration
On the Customer Admin Dashboard, navigate to the integrations tab
On the integrations page, click on available integrations where you will find Hibob

Click connect, which takes you to a page that explains the integration and what you can do with it. After reading through again, hit connect.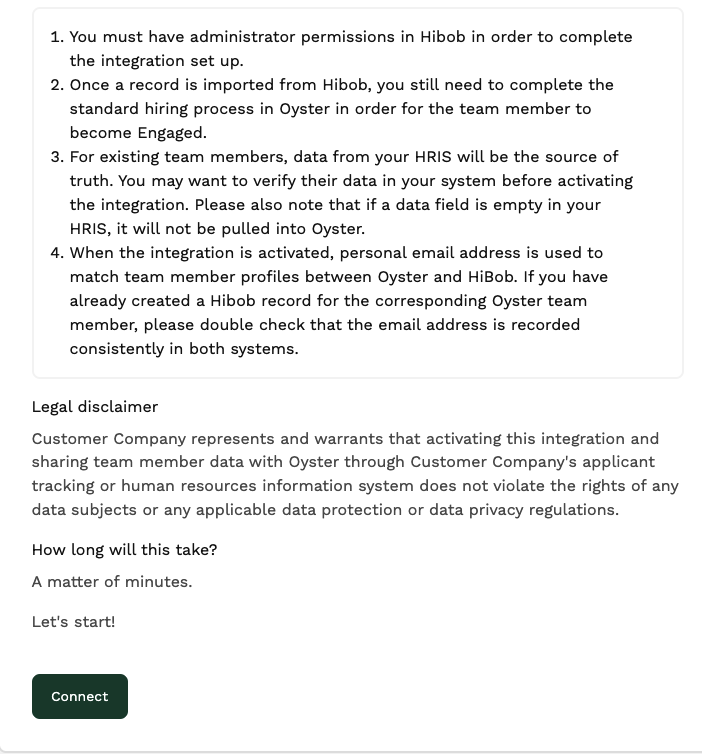 4. This brings you to a screen that explains the various fields that can be synced via this integration. On this screen select continue.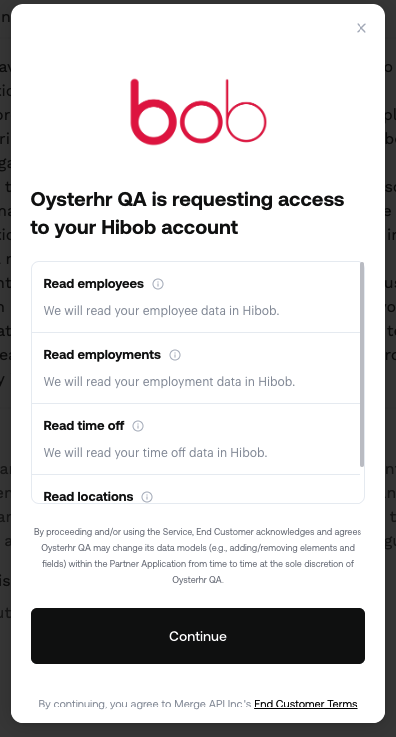 5. In the dialogue box that appears, enter your relevant Hibob credentials.This could either be
Hibob service user account information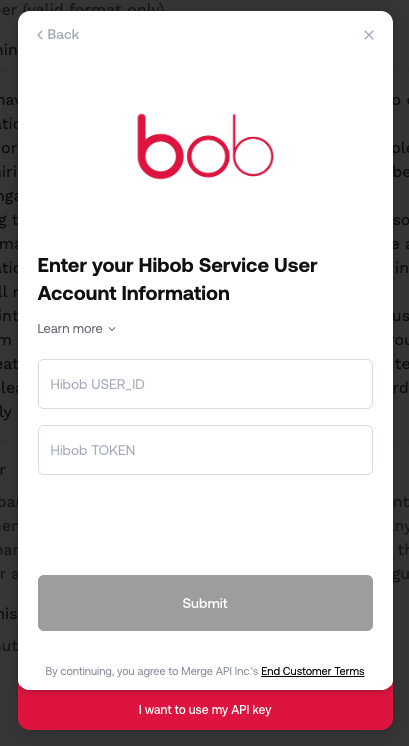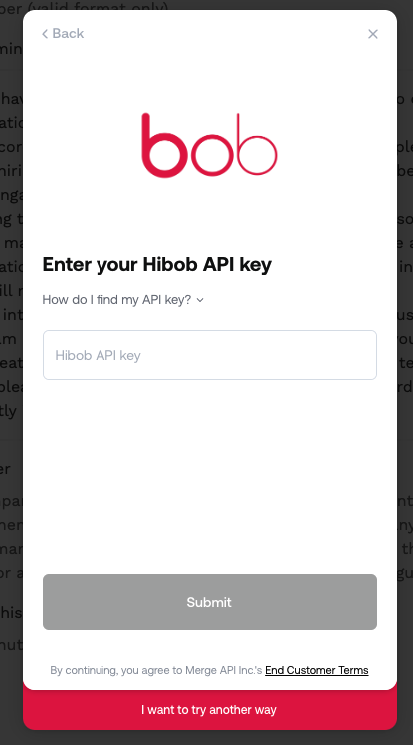 After entering your credentials, hit submit/finish setup and done! Your integration should show up under the tab-my integrations.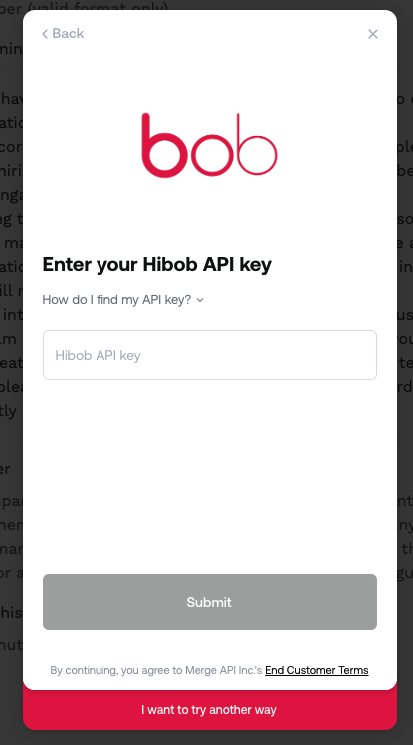 Note: If you decide to use the Hibob APi key for your setup, please ensure that all the fields are checked. At a minimum, ensure that "Full Employee Read" and "Employee Fields Read" are checked under the Approved scopes in Hibob to enable the integration to run.
What details are pulled from Hibob?
The following fields are pulled into the hiring form:
Full Name

Email Address (Personal)

Country of Residence

Job Title

Start Date

Employment Type (Full-time / Part-time)

Department

Manager Title

Manager Name

Manager Email

Manager Phone Number

Annual Gross Salary
Updates to the following fields are pulled from Hibob after the Team Member is engaged:
Date of Birth

Address

Street 1

Street 2

City

State/Province

ZIP/Postcode

Country

Department

Manager Title

Manager Name

Phone Number (valid format only)