Yes, similar to last year, payroll is adjusted to give way to office closures and reduced manpower due to the holiday season. This adjustment allows us to ensure that payments are still processed promptly and as expected.
We have also added relevant articles at the bottom of this article for your reference.
What dates can I expect to have changes?
Cut-off dates for payroll changes
Last engagement dates
Salary payments
Invoice release and due date
When will invoices be available?
Invoices will be available between December 12 to 14. It can be accessed through the platform. The payment due date agreements in place still stand. We would like to make sure that we collect funds to pay your Team Members according to the dates agreed on.
Are there changes impacting termination?
No, Oyster follows the given local procedure, meaning the timelines differ per case. We require a minimum of 30 days notice from customers for any offboarding request.
What are the expected changes for Direct Team Members?
Dec 9 - Latest engagement date for Dec 2022 payroll processing. Team members engaged after Dec 9th will not be processed in December.
Dec 23 - Target date for salary payments into Team Member's accounts for those paid monthly.
The following countries have differences from the planned timeline for direct payroll:
Greece: Dec 21 - Target date for salary payments. Includes Christmas Bonus.
Portugal: Dec 15 - Christmas Bonus payment and Dec 23 - Target date for salary payments.
Countries where salary payments will not have any changes:
Canada
United States
Czech Republic
What are the expected changes for Indirect Team Members?
As we work with several local partners, changes may vary per Team Member. You may refer to the legend below to see what the differences are. For further details, please contact the support team by logging a request through our portal.
Red font

signifies changes on the dates

Red font with *

has changes that vary by Team Member.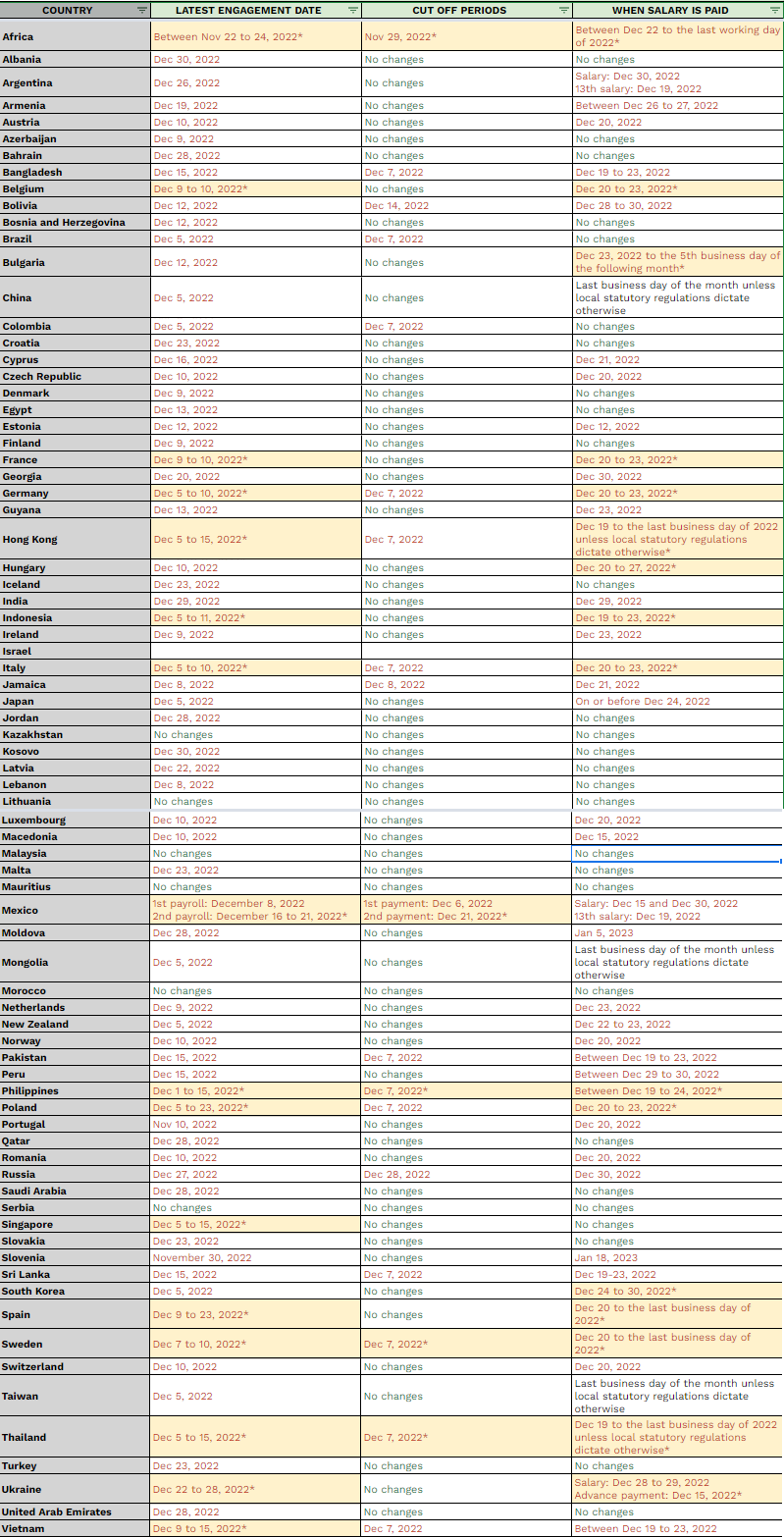 Reminders
Here are some related articles which you may find useful: